I know I wrote an article saying Riocan REIT (TSE:REI.UN) is a sub-par REIT being paraded as a godly company, but for some reason, I bought REI.UN today. I'm going to try to make sense out of it, more for me than you, really, but I guess it might help me come to term with my decision.
REI.UN is not a bad REIT, but it's nothing to get excited about. I can think of at least 10 REITs that I would buy before it (BEI.UN, CUF.UN, BTB.UN, TNT.UN, HR.UN, INO.UN, NWH.UN, AX.UN, SRT.UN, APR.UN, to name a few, all on the TSE). I mean, just look at this mess: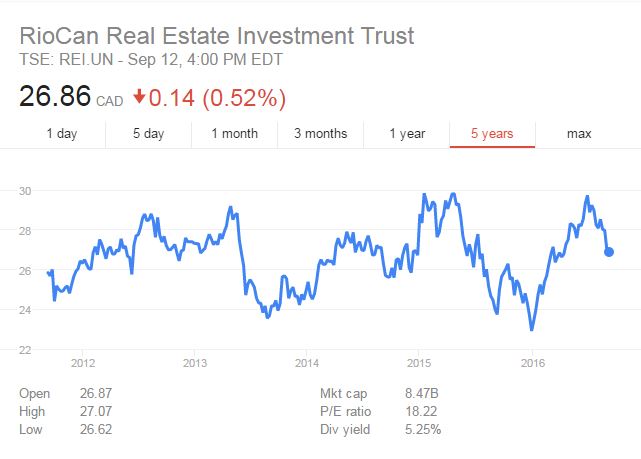 In the last five years, the stock hasn't moved. The only return you'd have gotten would be a measly 5.25% dividend and I cannot think of the last time it was increased. Compare that to some high growth REITs like IIP.UN or even MST.UN: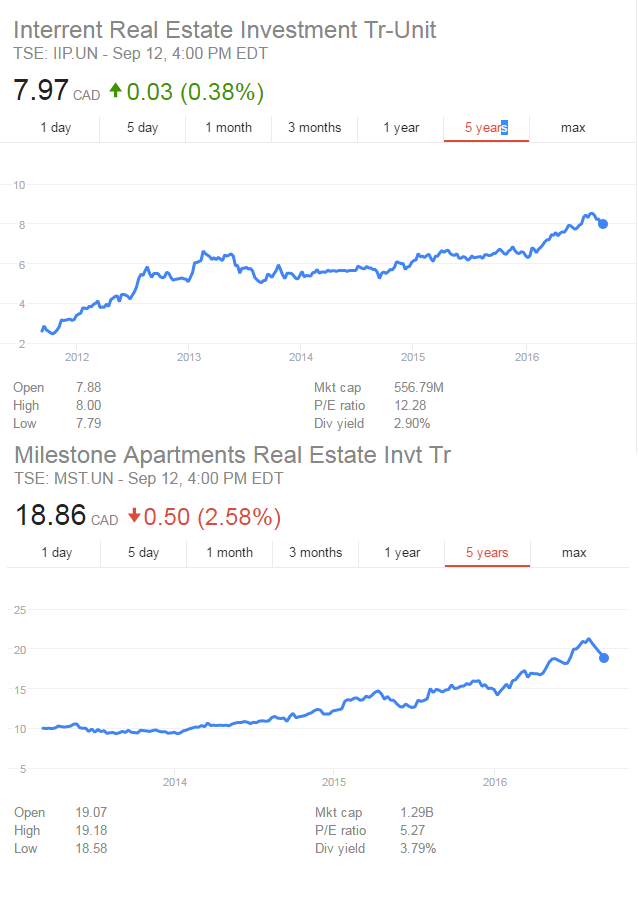 … and you have a recipe for disappointment. REI.UN doesn't even have the benefit of a high-dividend, like DRG.UN, SOT.UN and so many others. It doesn't have the yearly dividend increases like SRT.UN and PLZ.UN neither.
Even amongst large-cap REIT, REI.UN is in my humble opinion completely beaten by HR.UN, REF.UN and BEI.UN, to name a few, who all offer either higher yield, higher growth opportunities or better dividend growth. Oh, and the payout ratio sits at 89.9%, which is okay-ish at best.
So, when it comes to Riocan REIT, what are you left with? Very little, to be blunt.
It is true that the REIT sector underperformed in the last 5 years, for reasons that I honestly do not know. Yes, oil crashed, but this in no way justifies the very mediocre performance of even the REIT index (which covers all of Canada, including provinces with very little oil exposure) since 2011: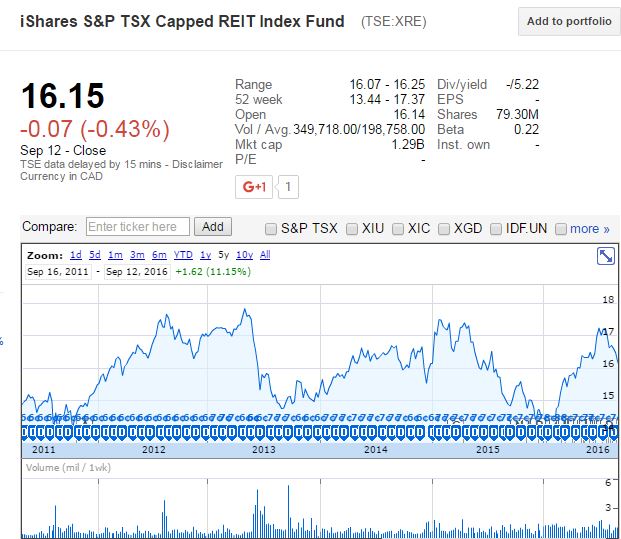 11% return in the last five years, woo-hoo!
With that in mind, why the hell did I buy REI.UN today? Well, in simple words:
I believe it's "due"
Riocan is the biggest REIT in Canada. It can't always suck. It's been five years now where they did absolutely nothing, at least in terms of stock prices. At a point or another, things have to chance; yesterday's losers are tomorrow's winners, they say.
Is RioCan underpriced when I look at it today? No it is not, but it is not overly overvalued neither. At this point, it's been underperforming for so long it's bound to do something eventually. And being the largest REIT in Canada, I don't think it's a bad bet at all.
You don't become the biggest in your field for no reason. I've been watching this one for a while and I personally believe now is a great time to invest in canadian REITs. Most of them sell at a bargain, i.e. a discount to their Net Asset Value. Riocan is a premium-name REIT (with high-quality tenants and locations, all very well diversified) being treated and valued as a very average REIT and I don't think it's fair. I think I want to believe in its management. And with a 37.7% debt ratio, I think Riocan can benefit from acquisitions in this market.
There is more, of course, but I am pretty glad I bought this company today. Would I rather be holding BTB.UN and its 9.1% dividend instead? Perhaps, yes, but I already have a lot in BTB.UN. I think REI.UN fits well into my 10+ years holding horizon.
Disclaimer: Long 500 REI.UN.