Riocan Real Estate Investment Trust is a extremely average REIT that is being paraded as the panacea to every investor's portfolio. Yet, the truth is that it offers mediocre growth, mediocre return and a mediocre distribution increase.
Looking at the biggest Canadian REIT index, we see REI.UN is at the very top. XRE is almost a fifth composed of REI.UN, with its second biggest holding a good 5% below:

Indeed, most "analysts" boast Riocan as the ultimate REIT. I remember when, five years ago, REI.UN was boasted as the one stock your portfolio couldn't do without.
But looking at the recent returns, one might feel more than disappointed: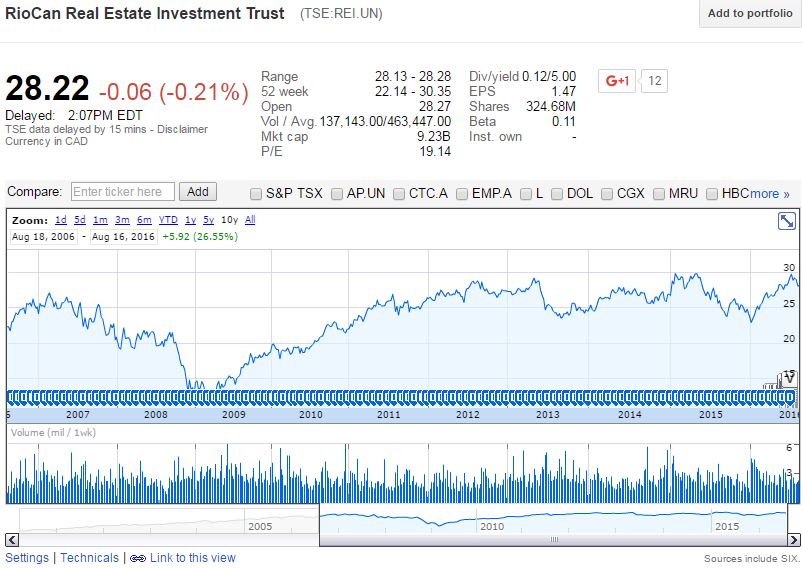 In ten years, the stock has barely moved. In the meantime, BEI.UN is up 74% over the same period, REF.UN is up 102%, CAR.UN is up 82% and AP.UN is up 124%.
REI.UN's distribution is underwhelming as well. During those years, REI.UN has paid something close to a 5% distribution, while many REIT paid 8%+.
Riocan doesn't offer good dividend growth neither; since setting its distribution at 11.5 cents in 2008, riocan only increased it once, in 2013, to 11.75 cents, a 2% increase. PLZ.UN, as a comparison, has increased its distribution from $0.125 to $0.26 over the same period, more than doubling their distribution. Hell, even BTB.UN has increased it from $0.2795 to $0.42.
So, what exactly does REI.UN offer? Nothing. Looking at its financials, we find every good characteristic of a mediocre REIT: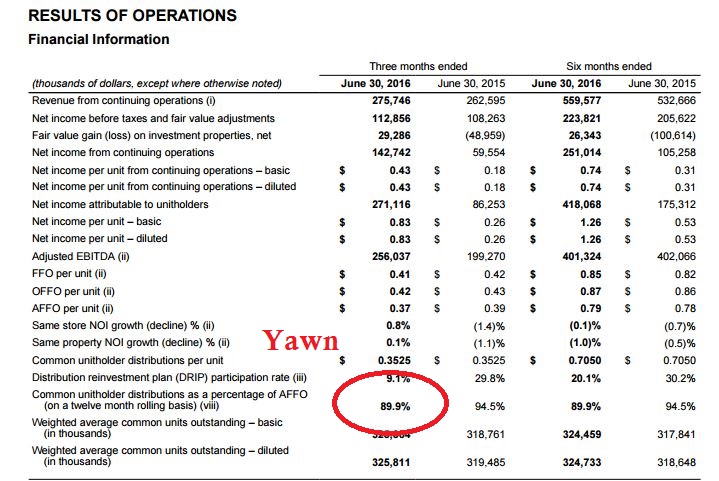 Is this financial sheet bad? No, it's not bad, but it's not great neither. A 90% payout ratio is kind of "meh" given the disappointing growth REI.UN has had. Just compare that to TNT.UN: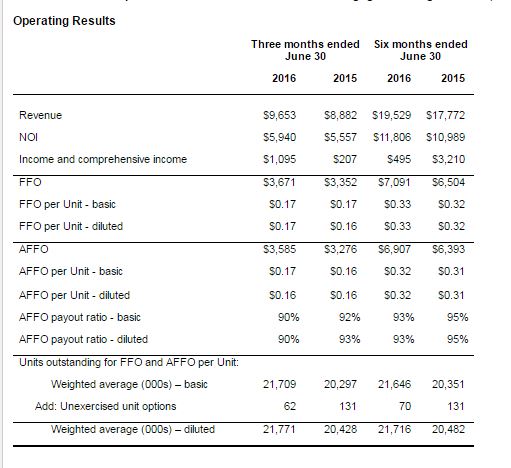 True North Commercial also has a 90% payout ratio - but it pays a 9.2% distribution, not a 5%.
Riocan Real Investment Trust's occupancy is nothing formidable neither at 92.3%-95.1%. Again, nothing terrible, but nothing amazing neither.
So, why exactly does everyone love REI.UN? Beats me. Riocan has one and only one interesting point, its size. At a $9B, it is the biggest player in the field. It is also incredibly well diversified, all over Canada and even in Northern USA. It has good properties too and is extremely well-managed.
But it is so incredibly overpriced than I just can't get myself to invest in it. They say that the best indicator of a company's future success is its past success and over the last ten years, the stock price has barely moved. At some points, you want to see more than just shiny photos of buildings - you want results. REI.UN didn't deliver them, period.
Riocan REIT is a very average company that is overpromoted. There are far better investment in the real estate world (see my top three underrated canadian REIT gems, for instance)